PMT ChatBot
Knowledge Based Bot
Automated customer support Bot that keeps your business up and running 24/7/365
Setup in 2 minutes. No technical skills needed. Customisable. One-Click Deployment.
Never miss a chance to engage with your customers and at the same time lower customer support costs with our automated ChatBot that help build real time intelligent virtual assistants for your website, facebook, instagram pages and more. ChatBot will answer questions, collect information and increase customer retention. Backed with real time monitoring and notifications.
• Point your clients in the right direction with links to products, pages, videos & more!
• Provides users with product images, guides and depictions for more clarity!
• Collects user info, enquiries and feedback. Get alerts when there is a user enquiry!
ChatBot as an Ad
---
• Runs as a banner creative (dynamic or as specified). Gives you insight into what users want or expect from your business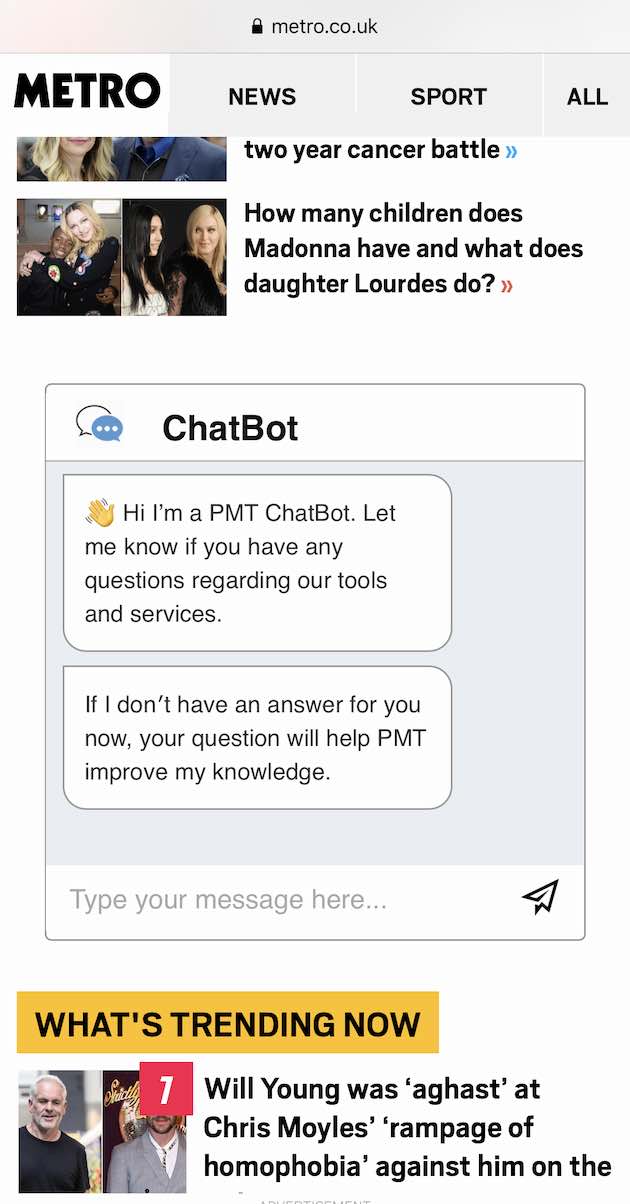 • Don't treat everyone as the same! Engage with your customers, recommend products and most suitable landing page
• Boost customer relation, sales and lead generation with real time notification and reporting as ChatBot receive enquiries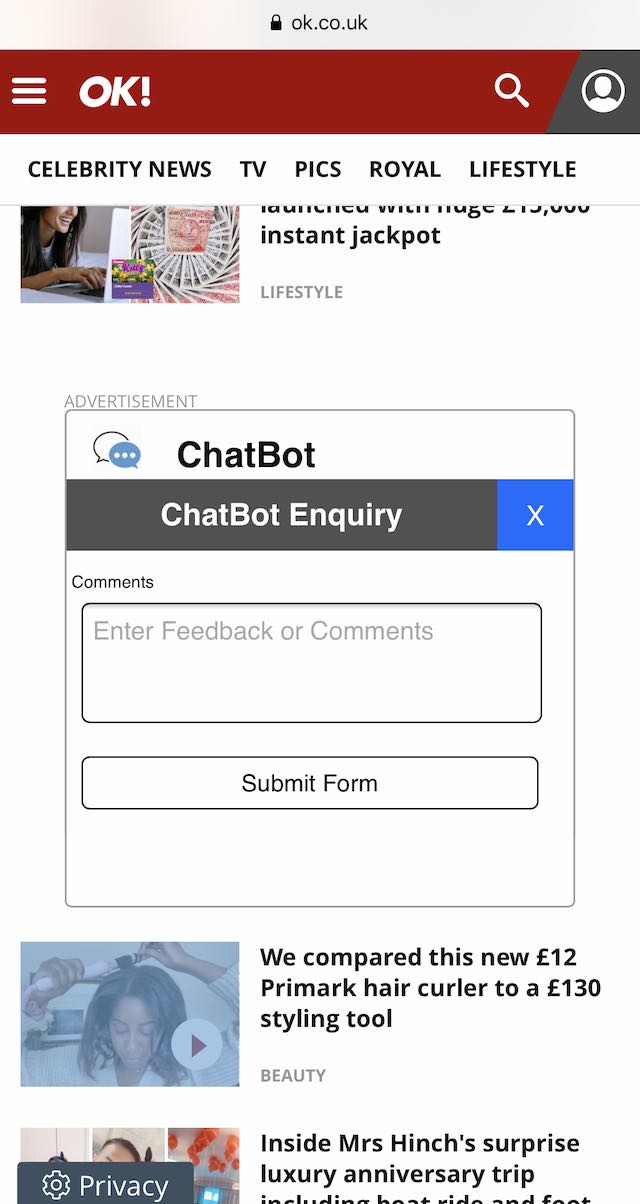 Features
---
Conversational
ChatBot responds in a conversational manner whilst logging enquiries, response and questions it could not answer; indicating trends, also helps with updating Bot's knowledge base leading to a better, smarter and more interactive Bot.
Exams & Trainings
Run automated assessments, interviews, and trainings. Giving users the option to select answers or provide response. Can also score, grade and record user scores. Q&A's are randomised so no two users see them in the same sequence.
Stand Alone
You don't need a website to enjoy the benefits of our ChatBot. Can be used as an online presence for your business with support for social sharing with a One click integration to your web page and ChhatBot instantly starts responding to user questions.
ChatBot in action
---
Frequently Asked Questions
---
Do I need to provide payment or credit card details to register?
No, we don't need your credit card or payment details. There are no contracts, hidden fees or recurring subscription.
How many chats can my ChatBot have at the same time?
Your chatbot can simultaneously have unlimited number of ongoing chats with users.
What is ChatBot?
ChatBot is software that simulates human-like conversations with users via text messages on chat. Its key task is to help users by providing answers to their questions.
Can I use ChatBot on several websites?
Sure! Feel free to use your chatbot wherever you need it including social media pages.
What does Chatbot Knowledge Base mean?
It means the FAQs and basic information about your business used by chatbot to instantly respond to quesions.
You have a question?
Please reach out to us on info@powermytech.com or Click Here to contact us!
---
Leave repetitive questions to our ChatBot so you and your team can focus on questions that require human touch.

Don't make your customers wait!